Ground Cue Bottom-Rung Safety Signal

Field Replaceable Sure Set-Feet

Corner, Pole, & Stud-Gripping V-Bar

Extension - Stud Grab

Extension - Corner/Pole Grip

Rail Shields and Shock-Absorbing Braces

Top Cap Rotating Wall Pad Accessory



Stepladder - Fits between Studs
Extension - Field Replaceable Wall Pad Feet
Leaning - Stud Grab
Leaning - Inside Corner
Leaning - Outside Corner
Type IAA - 375 Lbs Rated
FEATURES OF KING KOMBO TECHNICAL
You're a pro, so you need a ladder that can help you get stuff done faster than ever. The Little Giant King Kombo is the pinnacle of ladder technology, offering a variety of beneficial features that make your ladder safer and more versatile.
The King Kombo is the winner of the 2019 OH&S New Product of the Year Award and is also the winner of the 2019 Pro Tool Award. In both awards, the ladder was recognized for its innovation and safety.

Non-Conductive, Hi-Viz Green Fiberglass
It's an electrician's dream come true. Made from lightweight, durable fiberglass, you can work around electricity without fear of conductivity. The Hi-Viz green color also promotes increased visibility to decrease ladder bumping.
This 3-in-1 combination ladder easily converts from stepladder to extension and leaning configurations, giving you the perfect tool for any job.


The crowning jewel of the King Kombo is its rotating wall pad. Now, you can safely set up your ladder on inside and outside corners, walls and studs.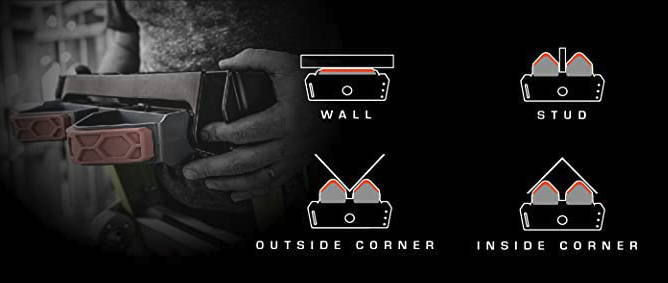 The climbing side of the ladder features wide-flared legs for increased side-tip stability. The extension side of the ladder has s functional rear section to fit between studs, and access tight workspaces between wall studs, ceiling trusses and roof or attic access ports.
On the King Kombo Industrial and Technical models, you can enjoy the benefits of Ground Cue, the bottom step alert system. When you reach the bottom step, Ground Cue makes an audible "click" to let you know you have safely reached the ground.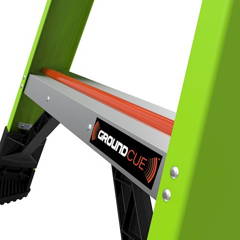 The Industrial and Technical King Kombo ladders feature a revolutionary V-bar. When in its extension configuration, the non-marring V-bar can grip outside corners, walls and studs.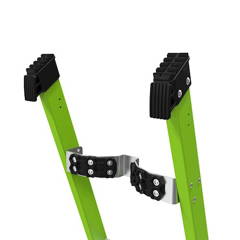 Dual-Position Sure Set Feet

The King Kombo Technical has all the above options that the King Kombo Industrial has, plus the Dual-Position Sure Set Feet. They can be used on hard surfaces when rotated flat or on used as a spike on softer surfaces to make your ladder safe from slipping.