An intense job calls for an intense tool. The Little Giant® Revolution™ ladder helps you complete those heavy-duty tasks. From roofing, to tinning, to general maintenance, the Revolution is the ladder to help you get stuff done.
Designed Especially for the Pro
The Revolution was designed with you in mind. The Quad-Lock™ hinge and metal Rock Locks™ allow for quick and easy height and position adjustment. The Tip & Glide™ wheels help you move the ladder easily from job to job.
Adjustable Ratchet™ Leg Levelers

Uneven terrain? Not a problem. With the Ratchet leg levelers, you can adjust the ladder's legs in seconds, allowing you to stabilize the ladder on unlevel ground. The retractable legs give you more than eight inches of leveling adjustment.
The Revolution is designed to help you work quickly and effectively, since it can be used in multiple positions. Use the Revolution in the stepladder, extension, staircase, 90-degree or trestle-and-plank* scaffolding positions, depending on the needs of the job.
The Revolution is rated to hold 300 lbs. It meets or exceeds all OSHA and ANSI standards in all configurations. In the stepladder position, the Revolution can hold 300 lbs. on both sides.
*Plank not included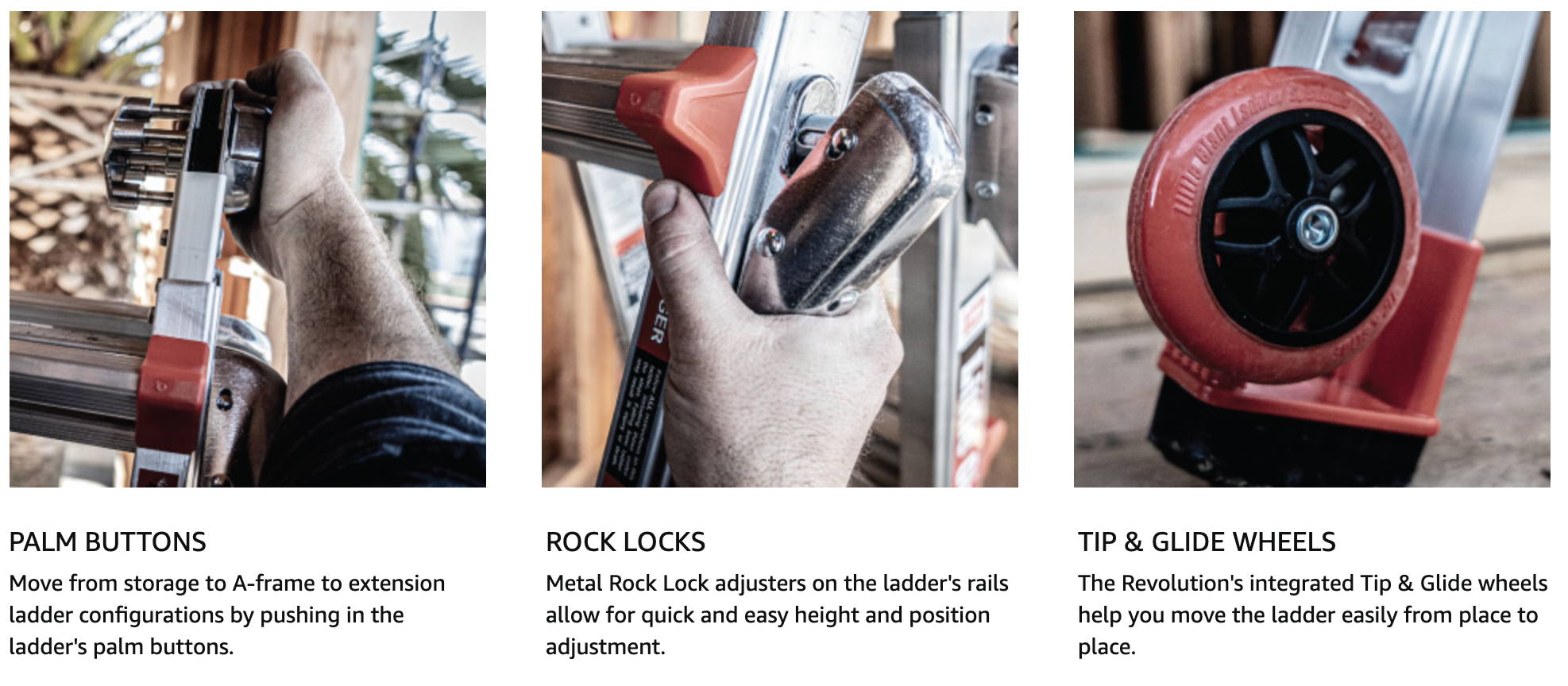 The Revolution can be converted into trestle-and-plank scaffolding by removing the outer section of the ladder and connecting it with trestle brackets. Attach a Plank between the two trestles to cover a larger workspace, so you can work faster. Trestle brackets and Plank sold separately.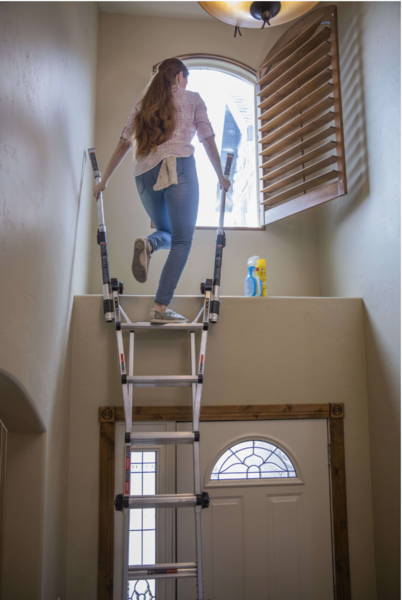 Best ladder ever! Weight not bad on 22ft
I researched the heck out of these ladders before i decided which to buy. The consensus out there is that little giant is overpriced and Werner etc are just as good. Now that I've had this ladder for several months, if it got stolen tomorrow I would immediately order the exact same one without the slightest hesitation. I would not even consider the Werner or any others, even at half the price. The reason? The latches and hinges! Absolutely worth the extra money, omg! It makes it so much easier to work with.

This is a GREAT ladder!!! My husband has always used a standard 6 foot ladder, and of course we always had things to do that were much higher than 6 feet. I saw the Little Giant as a "Deal" in the Gold Box. The price was outstanding and my husband immediately said "let's get it - we can always use it to put up the Christmas lights, if nothing else." Well, we received the ladder within 2 days (excellent service) and my husband watched the video that was online for this ladder. Since then he has used it for every project. As a matter of fact, I think he's trying to find projects just so he can use the ladder!!!!

great quality, study, plenty of features, love the stabilizer arms and the leg leveler feet.