Whether you are in the house, on the go or on the job, working up high is a part of life. We understand how important it is that you feel secure while atop a ladder, which is why the versatile MegaLite ladder was made. With the perfect blend of strength, stability and versatility, the MegaLite will quickly become your new go to ladder.
Featuring patented hinges and telescoping slides, you can set up your ladder in multiple positions, giving you the freedom to approach any task with ease. The MegaLite easily converts from A-Frame to extension, staircase, 90 degree or trestle-and-plank scaffolding.


Made from lightweight aluminum and featuring wide-flared legs for added stability, this tool will take you from task to task without reservation. Plus, with the patented Tip and Glide wheels, you can transport it without breaking a sweat. The MegaLite also has Airdeck accessory ports built in so you can attach your favorite compatible Little Giant Ladder accessories..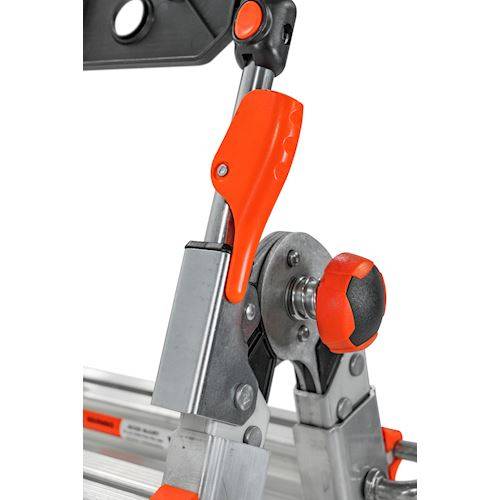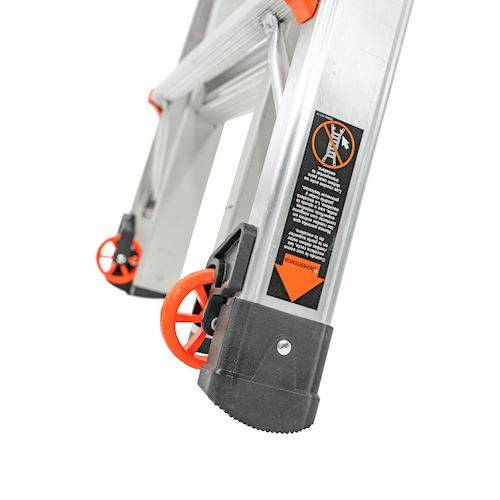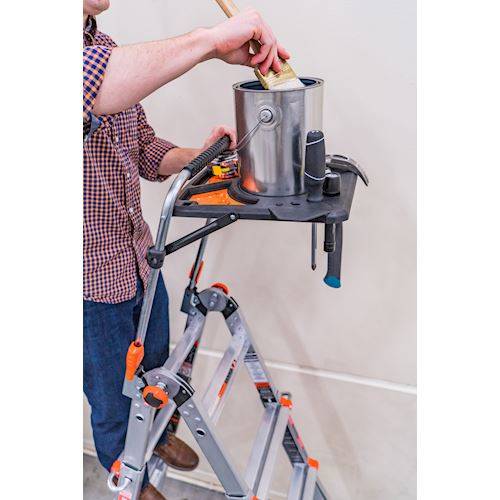 AirDeck
The AirDeck workstation is a multi-use tray and handrail accessory designed for your Little Giant Ladder to help you finish your projects more easily. By using the AirDeck as a handrail, you can maintain three points of contact on the ladder. With its grooves, slots and fitted recesses, the AirDeck is perfectly designed as a tool tray to hold your tools, paint containers and other materials. This accessory holds up to 25 lbs.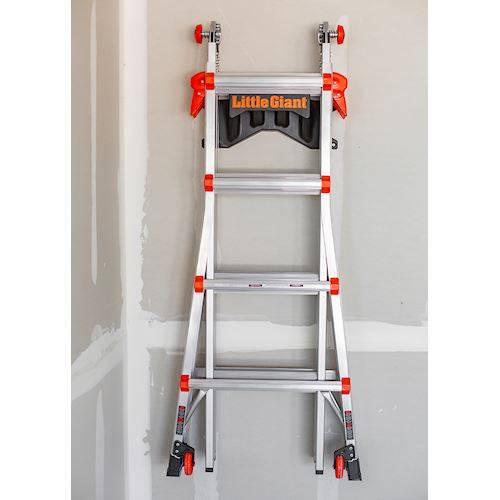 Wall Rack
When not properly stored, your ladder can become a tip or trip hazard, which can cause damage or injury to yourself, your ladder or your property. The Ladder Rack from Little Giant Ladders helps you save space, while protecting your ladder from damage. This accessory mounts to the studs in the wall at the 16" center; and holds up to 75 lbs.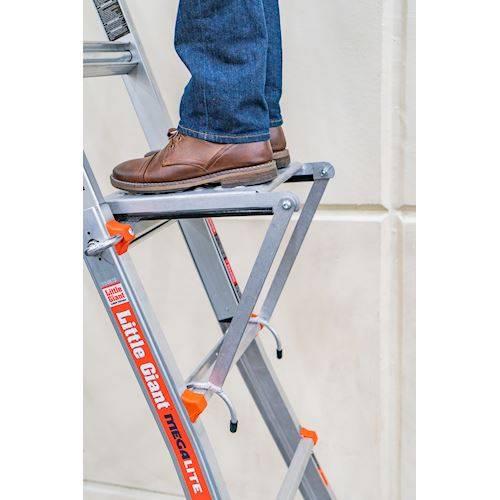 Work Platform
Standing on a ladder for long periods of time can be exhausting. The Work Platform is a ladder accessory that doubles as a comfortable standing platform or tool holder. Enjoy the comfort of standing on a sturdy standing platform, rather than an uncomfortable ladder rung. When used as a tool tray, the Work Platform can hold buckets and tools for convenient access. Rated to hold up to 375 lbs.,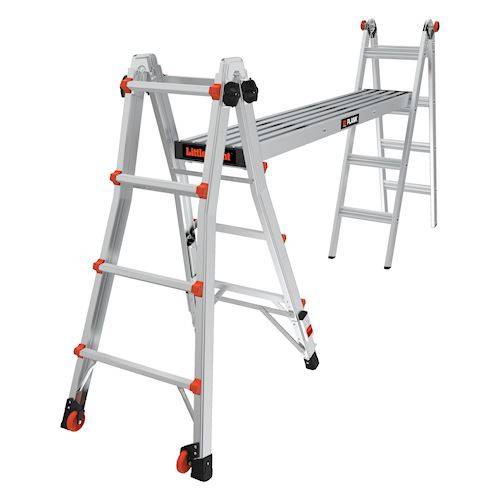 Trestle Brackets
No one wants to go up and down a ladder all day. With the Trestle Brackets, you can easily convert your Little Giant Ladder into two secure trestles to support plank scaffolding, saving you the hassle of trips up and down the ladder. *Plank Sold Separately
Other Accessories for the MegaLite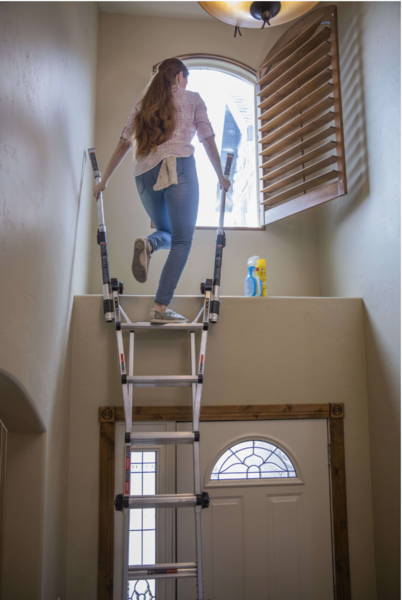 Best ladder ever! Weight not bad on 22ft
I researched the heck out of these ladders before i decided which to buy. The consensus out there is that little giant is overpriced and Werner etc are just as good. Now that I've had this ladder for several months, if it got stolen tomorrow I would immediately order the exact same one without the slightest hesitation. I would not even consider the Werner or any others, even at half the price. The reason? The latches and hinges! Absolutely worth the extra money, omg! It makes it so much easier to work with.

This is a GREAT ladder!!! My husband has always used a standard 6 foot ladder, and of course we always had things to do that were much higher than 6 feet. I saw the Little Giant as a "Deal" in the Gold Box. The price was outstanding and my husband immediately said "let's get it - we can always use it to put up the Christmas lights, if nothing else." Well, we received the ladder within 2 days (excellent service) and my husband watched the video that was online for this ladder. Since then he has used it for every project. As a matter of fact, I think he's trying to find projects just so he can use the ladder!!!!

great quality, study, plenty of features, love the stabilizer arms and the leg leveler feet.